556 Main street, Charlestown, Nevis
Member Login
Become a Member
You can register and become a member. It's completely FREE.
Register
Why Us

We take orders of any complexity

We do more than translate texts

We combine a fair price with high quality

We employ qualified native-speaking translators
What We Do
Legal and business translations

Mutual understanding and clear communication are vital to doing business with foreign partners, which is why the linguistic culture, mentality and laws of the target language's country are all taken into consideration in our legal and business translations. We do not just...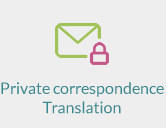 Our Rates
Our prices will pleasantly surprise you. Please contact us for details.